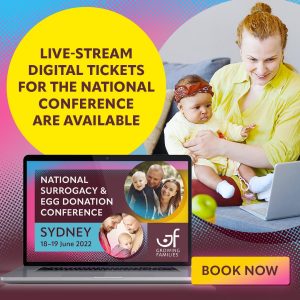 National Surrogacy & Donor Conference
This event is a chance for intended parents, parents and experts to network, share stories and learn from each other.  Learn what the IVF, donor and surrogacy processes really looks like in Australia and internationally.   Parents will join our popular 'tell-all' panel to explore how expectations can differ and how to survive the unexpected hurdles. 
This event will guide you on : 
Crucial decision-making on providers and destinations
Risks and how to avoid them
Which programs are you eligible for
Legal issues
Cost & timing considerations
Protecting Your Health
To ensure the safest conference experience,  presenters, staff, attendees need to be fully vaccinated and should carry a full vaccination certificate or a doctor certificate for those who can't be vaccinated due to health reasons. 
Ticket Types
Virtual and Face-to-face tickets are available, although you will get much more from the weekend face-to-face
Conference Committee
Sam Everingham, Tyson Culhane-Smith, Anita Uglietta, Kevin So, Karma Bottari, Carissa Perdulovski
Location
Sydney, Australia
Novotel Sydney Central 169 Thomas St, Haymarket
Date
18 June 2022, 9:30 AM
19 June 2022, 9:30 AM
Phone Number
+ (995) 598 44 89 29