"When you create a difference in someone's life, you not only impact their life, you impact everyone influenced by them throughout their entire lifetime. No act is ever too small. One by one, this is how to make an ocean rise" – 'Ripples' Danielle Dolby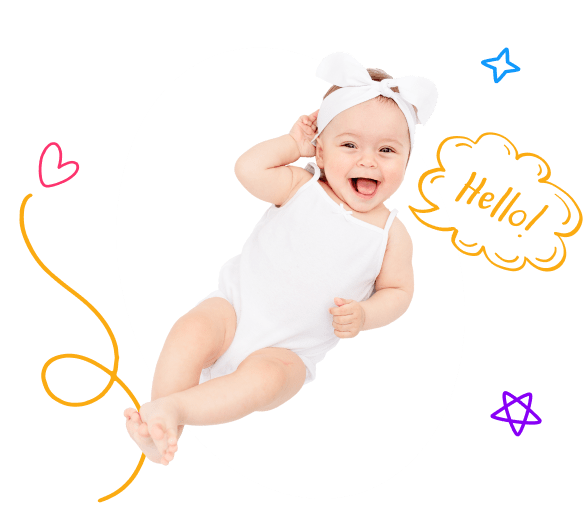 How Does The

Surrogacy Process

Work?
A holistic surrogacy journey takes care to pay attention to all components of the surrogacy process. This can feel overwhelming for intended parents pursuing surrogacy for the very first time as there are many elements to consider.
We want you to know that we care about every detail of and are dedicated to ensuring your journey is as transparent and stress-free as possible.
Every intended parent has a unique set of circumstances, and no surrogacy arrangement is exactly the same. While we understand that your personal path to parenthood is one of a kind, we have designed a map so you know what to expect going forward and have a timeline in mind. We accompany you from start to finish, ensuring steady guidance throughout each phase of the process.
Step 1: Initial consultation, process overview and IVF training
Your surrogacy program is overseen by our medical team and personal coordinators. Your personal coordinator, who is your first point of contact, assists you with:
All relevant program information
Helping you determine the best program fit
Assistance with contract signing and payment
Booking your visits
Providing full guidance from A to Z of the process
Your coordinator will confirm your program schedule, including important IVF dates, and, with your input as well as our medical team, assist matching you with a donor and surrogate partner optimally suited to you. Your coordinator is reliably in touch as you wait for the exciting news that pregnancy has been reached. In the event more than one attempt is needed, your coordinator will be there every step of the way to guide and assist.
Step 2: Legal Briefing and Program Registration
As surrogacy law varies worldwide, we recommend all intended parents consult with a family solicitor in their native country in advance of proceeding so as to have a good understanding themselves of the legal process ahead. In tandem, with our in-house legal team a legal framework can be designed and along with this the compilation of required documents for a program start.
Once your Be Parent contract has been signed, relevant documents submitted and initial payment received, your surrogacy journey begins!
Step 3: Semen Deposit and Self-Stimulation / or Egg Donor Matching
Depending on the program selected, semen deposit and / or stimulation and egg retrieval booking dates will be scheduled, or if relevant for you, you can also begin the process of choosing your egg donor.
Semen sample deposit
As freezing semen has no bearing on quality, you have the flexibility to arrive for sample-leaving or have your sperm couriered, whenever convenient for your schedule; 2 days are ideally required.
We recommend a semen preparation protocol before depositing sperm, in order to provide the best possible sample. This includes refraining from ejaculation for 72 hours prior to depositing but not longer than 5 days prior, as sperm begins to diminish at this stage. 
Self-Stimulation and Egg Donor Matching 
A female partner may be using her own gametes or need the assistance of an egg donor. Self-stimulation can take place in your country of origin over the course of approx.2 weeks, with arrival to our clinic only at the point of egg harvesting; 7 days are ideally required for this stay.
Egg donation, if needed, can be an emotional process. Your personal criteria is of the utmost importance to us and we provide a wide range of donor options to satisfy all levels of family matching. All of our donors have been pre-screened according to Ministry of Health and ESHRE guidelines.
Step 4: Fertilization and Embryo Creation
Upon fertilization, embryos are created and develop to the Day 5 blastocyst stage. Similar to sperm, the cryogenic preservation of embryos does not affect their quality and certain studies even suggest frozen embryo transfers have a higher rate of success.
Once fertilization takes place, you will be updated and one week later, provided a full report including:
Number of eggs retrieved; Number and grading of the embryos;
Number of mature eggs; Number of embryos developed to the blastocyst stage;
Genetic testing options are available, if, desired and screen at the embryonic stage for health and anomaly. Processes take place on day 3 or day 5 and depending on the  screening selected results are available within 2 days or up to 3 weeks.
Step 5: Surrogate carrier matching and embryo transfer
Surrogate carrier matching
Our surrogate team must meet our primary eligibility criteria for program participation and then undergo a triple-screening process, complying with ESHRE and ASRM regulations. We ensure before starting that each member has satisfied all checkpoints of holistic wellness which include background and lifestyle, psychological, physical and gynecological / obstetric  assessment. Similarly, intended parents are also assessed in regards to health and suitability for the surrogacy journey.
We place great care in the matching process between surrogate carrier and intended parent. Factors influencing a match can include: communication schedule, prior experience in surrogacy, expectations after birth, an intended parent's motivation for surrogacy etc.
Be Parent supports mediated relationship-building, meaning we assist in forging a mutually desired connection between the intended parent and their surrogate partner according to the comfort-level of both parties.
Embryo transfer
Your embryo transfer date is always tentative and depends on the hormonal preparation of your surrogate partner. A maximum of two embryos can be transferred but please keep in mind, while increasing the chance of success in general, a 2 embryo transfer also carries a greater likelihood of twins (approx. 50%).
Step 6: Confirmation of pregnancy and antenatal care
The Two-Week wait
A blood test evaluating the presence of HCG (pregnancy hormone) is done approx. 14 days after embryo transfer. If HCG is present and at a satisfactory level, a second test is repeated to confirm HCG numbers are increasing. If the result is again positive, we can update to confirm pregnancy.
In the event the HCG level is low and there is a negative result, our medical team will reassess and plan for a second attempt according to your wishes.
Pregnancy
Once your surrogate partner is confirmed pregnant, her personal coordinator will be regularly checking-in, as well as accompanying her to all medical appointments at our clinic. Every surrogate team-member is under the supervision of our head gynologolist as well as in the care of a Be Parent pregnancy nurse who will be visiting weekly to ensure health, wellness, nutrition and appointment follow-up treatment. Our counseling team is also on-hand throughout to assess the mental health of our surrogate partners and provide any support necessary along the way.
Pregnancy is one of the most anticipated steps in your surrogacy journey. We know that every intended parent wants as much information as possible during this phase and reliable and timely communication is essential.
Our clinical team and your personal coordinator work closely during this period to ensure you are updated at every stage. Each appointment and ultrasound is supported by next-day reports, photos and videos if your in-person attendance isn't possible.
There are 40 weeks in a pregnancy, starting from the first day of the last menstrual period. Please note, the great majority of deliveries take place before the 40th week. A full-term pregnancy is considered between 38 to 41 weeks.
First-Trimester Prenatal Testing (weeks 1 - 13)
HCG- blood test - confirming pregnancy (approx.14 days after embryo transfer)
Diagnostic blood testing
Detection of gestational sac and heartbeat ultrasound examination (approx. 6 weeks)
Scan, heartbeat ultrasound, full blood count, urine test, coagulogram, TSH, FT4 , Hepatitis B&C, HIV, RPR (approx. 8 weeks)
Double screening, ultrasound, full blood count, urine test, coagulogram (approx. 12 weeks)
Second-Trimester Prenatal Testing (weeks 14 - 27)
Baby's gender can be revealed, if desired
Triple screening, ultrasound, full blood count, urine test, coagulogram, urine bacteriology test (approx. 16 weeks)
Ultrasound, full blood count, urine test, coagulogram (approx. 20 weeks)
Ultrasound, full blood count, urine test, test for glucose tolerance, coagulogram, fetal cardioscopy (approx. 24 weeks)
Third-Trimester Prenatal Testing (weeks 28 - 40)
Ultrasound, full blood count, urine test, coagulogram (approx. 28 weeks)
Monitoring / NST / non-stress test (weekly) - ensures baby's well-being, tests heart rate, contractions of surrogate
Step 7: Surro-Doula Parental Preparation
To ensure a positive transition to parenthood, Be Parent offers doula / parental coaching assistance in the lead-up to, and after every birth.
Pre-natal education is offered starting at 20 weeks pregnancy and the aim is to prepare every intended parent for delivery day and provide online video training on baby care aspects, as well as strategies and tips for starting off new parenthood in a foreign country. Our doula is on-hand to support you emotionally throughout the pregnancy, delivery, and post-partum phases of the surrogacy process.
You can expect:
Online parental coaching prior to birth
In person parental coaching your first day home with your newborn
On call availability for advice and support during your post-birth stay
You will learn about:
Home preparation guidelines
Baby care methods
Bonding and attachment strategies
Induced lactation
Bottle feeding
Adapting to family scheduling
Step 8: Delivery and post-birth follow-up care
Your surrogate partner will be in excellent care, as will your new baby. She will have birthing support available to her on the day to ensure her comfort.
A paediatric check is performed immediately after birth and baby's discharge date is at the discretion of the medical team and determined according to delivery status, weight, and APGAR score.
Step 9: Document issuance and exit home
We request that every intended parent has sound knowledge of personal legal requirements and native country laws in advance of proceeding. Our legal team works hand-in-hand with you from the very start of your journey and provides all required documents for birth certificate issuance in your names, as well as support in obtaining your baby's passport and establishing your legal parentage back home .
6-12 weeks is an estimated exit time from Georgia depending on your Embassy's efficiency and native country's laws.
You've been waiting long enough
Are you ready for the lifetime gift of parenthood? To be a patient and loving teacher, leader and protector? And to also…change diapers, wake up at odd hours, nurse stomach flus and experience your first break-up all over again through your teenager? 
We're here to help. 
14 Mtskheta Street, Tbilisi, Georgia