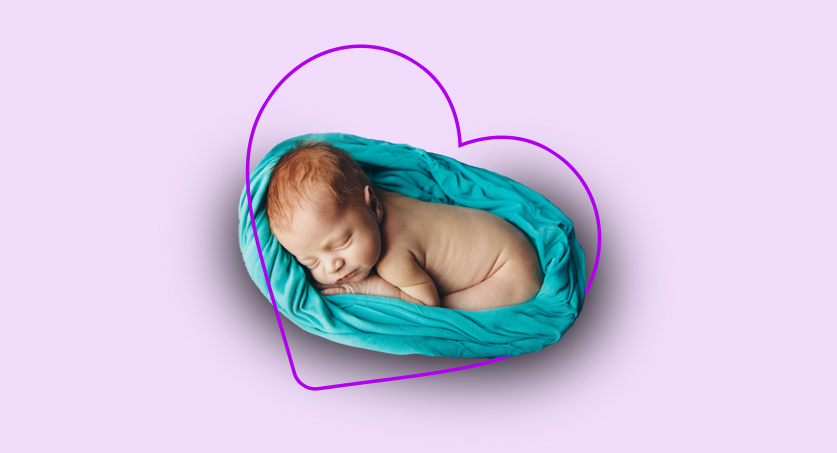 Surrogate mothers are the most genuine, selfless and generous women who dedicate themselves and make the dream of being a parent come true to the couples who need their help. Carrying another child's baby is the most humane gift a person can give to those in need. This is why each member of our team values these heroic women and does everything in their power to make them feel valued and appreciated.
If you're wondering how to become a surrogate mother and join our group of amazing women, we're here to guide you through this process.
First of all, we understand that becoming a surrogate is a major decision that changes your whole life, and you probably have a lot of questions. If you're interested in becoming a surrogate but want to have a face-to-face meeting with one of our surrogacy advisors or experienced surrogates before you apply, we can offer you a great support system and initiate a conversation for you.
If you've already decided that you want to go through this rewarding journey, you can fill out our surrogate application, which will allow us to contact you faster, know your preferences and get to know you better. Filling out this form doesn't mean that you'll be forced to start your journey right away – it will just help us to get to know each other better.
After contacting us, the first step to becoming a surrogate is to meet the Be Parent's qualifications and pass our screening requirements. This screening process helps protect the health and safety of the surrogate as well as the baby and ensures you are physically and psychologically ready for the surrogacy process.
Requirements for surrogate mothers vary depending on the agency you'll choose. Women who wish to become surrogate mothers with Be Parent:
Must have delivered a child of their own, and is currently parenting at least one child.

Must have completed successful pregnancy and birth, without complications, as documented by medical records.

Must be between 21-37 years of age.

In most circumstances, must have a Body Mass Index (BMI) of no higher than 33.

Must have the support of her family. If married or partnered, the surrogate must have her partner's support. Also, the surrogate and her partner/primary support person must agree to participate in a social work screening.

Must be financially secure.

Must lead a stable, responsible lifestyle.

Must not use illegal drugs, smoke cigarettes, or abuse alcohol.
If you meet all of these qualifications, you will continue with the screening process. The surrogate screening process allows us to make sure that you are fully suited to carry a baby and your background is suitable for this experience. Screening process consists of:
Social and medical history information: The social and medical history forms provided by Be Parent will ask you to submit detailed information about you, your family, your health history and even your personality.
A physical examination: Our potential surrogate mothers are required to meet with a fertility specialist for a physical exam and other lab work to ensure that they are healthy enough for surrogacy.
An in-home assessment: During this phase, a social worker will visit you at home and ask you about your goals, motivations and reasons of pursuing surrogacy. This meeting helps the social worker get to know you better and you can ask any questions you have to get a more clear view of the whole process.
Background checks: You will need to consent to standard criminal records and background checks.
A mental health evaluation: During this evaluation, you'll meet with a mental health professional who will help you get a fresh point of view of surrogacy and realize the toll that being a surrogate has on women. They will also determine if you're mentally prepared to carry another couple's baby.
After all of these screenings, you have to be evaluated medically and start your fertility treatment. Your physical health is very important to us – it defines how well your pregnancy will go as well as future baby's wellbeing.
Medical screening: This process will likely involve a physical and laboratory testing. Potential surrogate mothers will be screened for sexually transmitted diseases and other diseases, as well as viruses and infections that can affect your fertility. You will need to have an ultrasound to determine the health of your uterus, and there is a possibility that you will be screened for drug use.
Fertility treatments: After you're matched and signed a contract with intended parents, you will need to prepare for surrogate pregnancy with multiple fertility treatments, blood tests, injections and ultrasounds throughout the embryo transfer process. Surrogates are prescribed several medications, for example, birth control pills and other hormones, which will help regulate their cycle and prepare them for in vitro fertilization (IVF).
Embryo transfer: After fertility treatments, the intended mother's (or donor's) egg will be fertilized in the laboratory using the intended father's (or donor's) sperm. After the incubation period, the fertilized embryo will be transferred into surrogate's uterus. This is a quick and painless procedure.
Prenatal care: You will be required to make routine visits to the fertility clinic to receive regular blood tests and ultrasounds. As a steady heartbeat is heard and a healthy pregnancy is confirmed, surrogate mothers are transferred to their own OB. After this, she will continue to receive prenatal care.
Through all of these procedures, our surrogate mothers are taken care of by our team members and they receive any necessities which they need by us. We know the sacrifice surrogate mothers are making, so we do our best to show our appreciation!
If you're interested in becoming our surrogate, you can fill our form here!