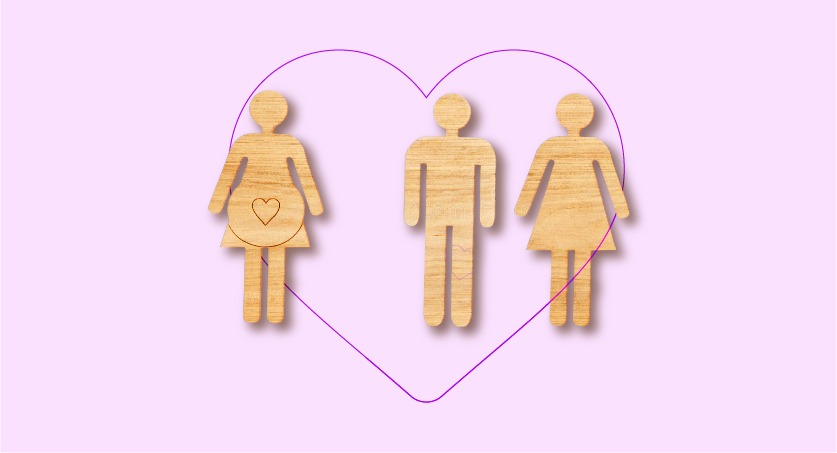 Who do surrogate mothers help?
Being a surrogate mother is the most genuine and selfless act of human kindness anyone can witness. Surrogate mothers change the lives of couples who want to have a baby of their own and make their dreams of parenthood come true.
Here at Be Parent, we are firm believers that some people are destined to be parents so we do everything in our power to make that happen. Surrogate mothers are the main characters in our story – they're the ones who carry a miracle baby for 9 months and take care of it until it's born and ready to meet its parents!
Couples who need the help of a surrogate mother include:
Heterosexual couples who have struggled with infertility;

Intended mothers who are unable to carry a child;

Intended parents who have a genetic defect or health condition they don't want to pass onto the child;

Single intended parents who want to have a family of their own;

LGBTQIA+ intended parents who want to have a genetic link to the baby.
Timeline of Becoming a Surrogate
If you're dedicated to giving the gift of human life to other couples, there is a list of things you should know about how to become a surrogate mother. You must have many questions about the matter, and we're here to guide you through the process!
The first step of becoming a surrogate mother is filling out the form – this helps us communicate with you faster and help you understand the journey of surrogacy to you. If you fill out the form, our team of consultants will contact you shortly, and it doesn't mean that you'll start the process immediately.
Once you've filled out a form and made up your mind about becoming a surrogate mother, you won't be told an exact duration of your journey, since it depends on many factors – how quickly you're matched with intended parents, how well you respond to IVF medications and time for embryo creation and transfer. Usually, this magical journey lasts for 14-20 months!
What are the Qualifications for Surrogate Mothers?
There are certain requirements for women who wish to carry a child for couples who can't conceive naturally. Be Parent does its best to ensure that our surrogate mothers are fit physically, mentally, and emotionally to go through this amazing and rewarding journey. Our requirements allow us to guarantee that the surrogate mother will have a happy, uncomplicated, and secure journey and the outcome will be successful!
Women Interested in becoming surrogate mothers with Be Parent:
Must have delivered a child of their own, and are currently parenting at least one child.

Must be between 21-37 years of age.

Must have the support of her family.

Must lead a stable, responsible lifestyle.

Must have completed successful pregnancy and birth, without complications, as documented by medical records.

In most circumstances, must have a Body Mass Index (BMI) of no higher than 33.

Must be financially secure.

Must not use illegal drugs, smoke cigarettes, or abuse alcohol.
In addition to these requirements, our team conducts a screening of future surrogate mothers. This process includes an interview with a psychological professional, an interview with the family of surrogate mothers (to make sure they are on board with her decision and will support her through the process), a criminal background check, and, of course, a thorough medical screening!
Once you're done with the check-ups, you'll become one of our brave, generous surrogate mothers and will go on to make one lucky couple extremely happy!
How Long Does the Surrogacy Process Take?
The Duration of the surrogacy process is very individual because all cases are different from one another. The surrogate process consists of Prescreening (1-2 weeks) , Consultation (1-2 weeks), Matching (1 month), Medical Screening and Legal Contracts (2-3 months), Monitoring Appointments and Embryo Transfer (3-4 weeks), Pregnancy (9 months). After a successful surrogacy journey, your surro baby will meet its parents and go on to have a wonderful life with them!
Thanks to surrogate mothers, the possibility of having a child becomes a reality for many wonderful couples around the world. For this kind of selflessness, surrogate mothers are compensated both emotionally and financially. With these heroic women, we make miracles happen!
If you want to find out more about how to become a surrogate mother, you can fill out a form and our team will definitely answer all of your questions!