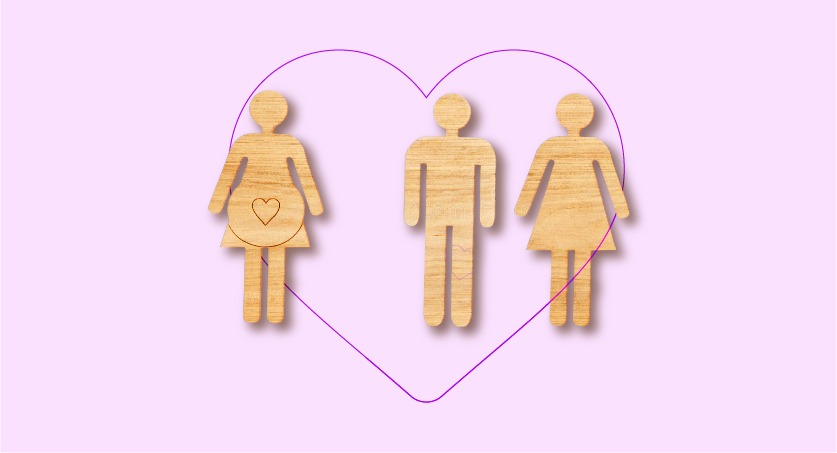 How and who do surrogate carriers help?
Surrogacy transforms the lives of individuals and couples who are dreaming of experiencing parenthood and having a baby of their own. This selfless act of human kindness can bring, not only personal fulfillment but the opportunity to benefit from comprehensive health screenings, as well as compensation for the enormous time, energy and love devoted during a surrogacy journey.
Here at Be Parent, we are firm believers that every one of us deserves a family, so we do everything in our power to make that happen. Intended parents who need the help of a surrogate partner include:
Heterosexual couples who have struggled with infertility, diagnosed or unknown;
Intended mothers who are unable to carry a child due to underlying disease or psychological/physical trauma;
Intended parents who have a genetic or health condition they don't want to pass to their child;
Single intended parents who want to have a family of their own;
LGBTQIA+ intended parents who are wanting a genetic link to their child.
How long does it take to qualify as a surrogate carrier?
If you're dedicated to this generous act of life-giving, there are many things you should know before starting out and you must have many questions too! We're here to guide you through the process from A-Z.
Completing our website application form is the very first step to apply for our surrogate team. This helps us understand if you have met our eligibility requirements in order to proceed to our interview and screening stages. Our Be Parent team of consultants will soon be in contact but this doesn't mean that the process will begin immediately; a journey start could be in a month or even up 6 months from the point of application.
Once you've qualified for our program, you won't receive a specific timeframe for your journey's initiation, as this depends on several factors – how quickly your screenings are completed, how easily you're matched with intended parents, how well your body responds to IVF medications, the needed time for embryo creation and transfer and whether or not an embryo successfully implants and develops into pregnancy.
What are Be Parent's eligibility requirements?
A responsible surrogacy agency will insist on target requirements for their surrogate candidates and provide a thorough screening panel for health evaluation. Be Parent ensures that its surrogate team is fit physically, mentally, and emotionally, in order to, not only successfully complete a journey, but have it be a secure, positive and memorable experience.
You may qualify for our surrogate team if you:
Have delivered and are currently parenting at least 1 child of your own
Are between 21-37 years of age
Have the support of your immediate family
Enjoy leading a stable, responsible lifestyle
Have experienced a successful pregnancy and birth, without complications, as documented by medical records
Have a Body Mass Index (BMI) of no higher than 33
Are financially secure

 Never use illegal drugs, smoke cigarettes, or abuse alcohol
In addition to these requirements, our team has triple-screening measures in place to ensure the full protection of our surrogate team. Our complimentary screening process includes an assessment by a licensed psychologist, criminal background clearance, legal counselling, IVF training, personal and family interviews as well as reproductive, general health and infectious disease screening.
This is the most well-rounded assessment approach possible and these results are also valuable for you to have for your own personal self-care.
How long does a surrogacy journey typically last?
The duration of the surrogacy process is just as individual as the intended parents and surrogate partners we help. The timeframe for an average journey could be:
a.Pre-screening (1-2 weeks)
b.Consultation (1-2 weeks)
c.Matching (1 month)
d.Medical screening and legal advisement (2-3 months)
e.Protocol monitoring appointments and embryo transfer (3-4 weeks)
f.Pregnancy and delivery (9 months)
g.Post-natal recovery (2 weeks – 1 month)
To learn more about how you can qualify for Be Parent's surrogate team, please refer to our website www.beparentsurrogacy.com. We hope to welcome you onboard soon!